Cecil Airport and Spaceport Unveils Mission Control for Commercial Spaceflight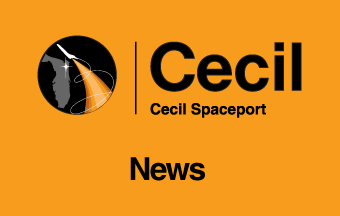 by: Sydney Boles, WJCT
More than a decade after the Federal Aviation Authority granted a spaceflight permit to Jacksonville's Cecil Airport and Spaceport, the commercial airport is unveiling a traffic control center that's better capable of handling horizontal-launch flight into suborbit.

The new Dr. Norman Thagard Mission Control Center is named in honor of the Jacksonville astronaut and Paxon School graduate who completed five missions in space and was the first American astronaut to ride to space on a Russian spacecraft.

The control center includes a terminal for managing spaceflight and a new 126-foot air traffic control tower for commercial flights.

Air traffic control specialist Tim Altman said moving from the old 60-foot tower to the new one was like switching from a Razr flip phone to a brand new iPhone.

"I've been working here about 10 years, and when you transition, you have to look and see everything around you, and you're seeing everything from a new perspective,"he said. "It really enhances everything."

With its expanded capabilities, Cecil will be able to launch nano-satellites for research and commercial purposes, as well as manned space flights. Spacecraft will take off horizontally like airplanes, as opposed to vertically like rockets.

"With the two launches that just happened recently, it's a watershed moment in the space industry," said Cecil Spaceport Managing Director Matt Bocchino, referring to the spaceflights of billionaires Richard Branson and Jeff Bezos. "They've been talking about this for years and years; now it's happening."

Cecil Airport Manager Kelly Dollarhide said the Westside airport is better positioned to compete in the increasingly cutthroat spaceflight industry.

"We have some capabilities that some of the other spaceports don't have. Like, the [Brevard County] Shuttle Landing Facility — they have one runway. We have four," she said.

In the 11 years since Cecil got the permits for commercial space flight, there's just been one test launch, in 2019.

The Alabama-based Aevum Inc. has been contracted to begin launching autonomous satellites from Cecil Spaceport as soon as this year. Space Perspective is slated to conduct test flights of its passenger spacecraft from the site. Another tenant, Atlanta-based Generation Orbit, was originally slated to launch in 2019.

Meanwhile, commercial air flights continue, with some 100,000 flight operations each year at Cecil. Tenants include aircraft maintenance company Flightstar and the Florida State College at Jacksonville flight school.

The Department of Homeland Security and the U.S. Coast Guard collaborate on sea-based drug busts out of Cecil hangars, with 61 drug busts to date in 2021.

Source: WJCT News