Jacksonville Aviation Authority Launches Cecil Spaceport Website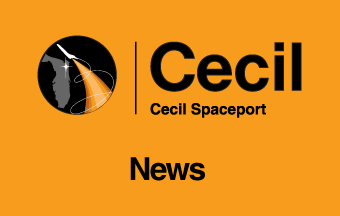 by: Samantha Mathers, Action News Jax
Jacksonville, Fla. — On Tuesday the Jacksonville Aviation Authority (JAA) launched a new website for Cecil Spaceport, one of only three FAA-authorized horizontal launch spaceports on the East Coast.
The website was created with the intent of attracting new operators to Cecil Spaceport and educating the public.
"Cecil Spaceport is an incredible facility in the middle of one of the nation's fastest growing regions," JAA CEO Mark VanLoh said. "It's time to showcase its assets to the world."
Current tenants at Cecil Airport, where the spaceport is located, include the Boeing Company, Flightstar Aircraft Services, Inc., Wood Group Pratt and Whitney, FSCJ's Aviation Training and Support program, Logistic Services International (LSI), JFRD's Station 56, Jacksonville Jetport, Robinson Aviation, Florida Army National Guard's Army Aviation Support Facility, Fleet Readiness Center Southeast, U.S. Coast Guard, U.S. Customs and Border Protection and ManTech.

At over two miles (12,503 feet) long, Cecil's runway can accommodate any production aircraft flying today, according to JAA.
There have been several large developments at Cecil in the past several months:
Generation Orbit, Aevum Inc., and Space Perspectives all have launches scheduled at Cecil in 2021.
In November 2020, the JAA board voted to develop a 39,000 sq. ft. airplane hangar and office facility which will be leased to ManTech Advanced Systems International Inc. ManTech has a contract with the U.S. Navy Maritime Patrol and Reconnaissance Airport Program to support and maintain P-8A Poseidon aircraft. Construction on the facility is expected to be completed by early 2022.
In December 2020, JAA and Boeing announced that they reached an agreement on a new 25-year lease for Boeing to expand its maintenance, repair, and overhaul operations at Cecil Field.
Source: Action News Jax